Regular price
Sale price
$15.00 USD
Unit price
per
Sale
Sold out
Share
 A guide for parents and caregivers of children and adolescents. This is an important subject matter. This book is a very easy read, with plenty of suggested resources for continued help for adults looking to navigate these challenging times!
GROWING UP HEALTHY IN A WORLD OF DIGITAL MEDIA is an easily read and well-illustrated guide, written by specialists from a range of 15 organisations concerned with childhood development.
Edited by Dr Michaela Glöckler and Richard Brinton.
Translated from the German by Astrid Klee.
View other Parenting Resource Books.
GROWING UP HEALTHY IN A WORLD OF DIGITAL MEDIA explains the dangers and risks to children and adolescents inherent in the new media:
Impairment of brain development, communications stress, danger of addiction, loss of privacy, sites that are unsuitable for young people, cyber bullying and health impairment due to continuous radiation from wireless devices.
This book illustrates the legal regulations, the safety measures and possible actions needed to prevent dangers or to address them appropriately.
It provides an educational standpoint which represents an appropriate balance between the needs of children and adolescents, and the restrictions which are required as precautionary measures to safeguard against the inherent dangers.
Contents:
Preface to the original German edition
Preface to this edition
Introduction
1.       Why this guide?
1.1     Media education aligned with childhood development
1.2     Strengthen your child's experiences in the real world!
1.3     How we as parents provide guidance
2.       Protecting children from mobile electromagnetic (EM) radiation – from the beginning! What we should take seriously
2.1     The biological effects of mobile radiation
2.2     Precautions and recommendations
3.       Early childhood (0–3 years) Without screen media and without irradiating children's toys!
3.1     What do young children need for their healthy development?
3.2     Screen media has a different effect on children
3.3     Tips for responsible media education during early childhood
4.       Preschool age (4–6 years) Real world experience and movement – as much as possible!
4.1     What do children need for their healthy development?
4.2     This is the effect of screen media at nursery school age
4.3     Tips for responsible media education at nursery school age
5.       The first years of school (6–9 years) Supervise and limit the use of screen media!
5.1     Developmental steps in the primary school years
5.2     Psychologists and paediatricians describe the fundamental needs of children
5.3     Tips for responsible media education at primary school age
6.       From childhood to adolescence (10–16 years) On the path to media maturity
6.1     What do pubescent children need for their healthy development?
6.2     The impact of screen media
6.3     Tips for growing into mature and healthy media usage
6.4     Tips for long-term learning with new media
6.5     Security software and technical support
7.       The dangers of using digital media
7.1     Stress associated with social media
7.2     Excessive media use and the dangers of addiction
7.3     Careless approach to private information
7.4     Cyber bullying and internet harassment
7.5     Sites on the net which are unsuitable for adolescents
8.       Internet and the law – information for parents
8.1     The right of informational self-determination
8.2     Internet criminal law and the Youth Protection Act
8.3     Copyright law
8.4     Purchase agreements and liability in the internet
8.5     Legal obligations of parents, for example with WhatsApp
Bibliography and References
Partners/Sponsors
Acknowledgments
"It is the paradox of our digital future: brain development needs time and skilful play, work and action within the real world throughout the first 15 to 16 years. The result is the faculty of self control and self thinking, which is fundamental for media competence. The authors of this book, all specialists, offer practical advice for age appropriate brain stimulation, encouraging teachers and parents to find ways to protect their children from the unnecessary and damaging too early use of electronic devices. They give advice for helping children develop their unique creativity and to learn how to learn out of their own initiative."
Dr Michaela Glöckler, Paediatrician
Published in the UK by InterActions. Distributed by Wynstones Press, England.
Printed in colour with numerous photos and illustrations.
Softcover. 160 pages. Growing up Healthy in a World of Digital Media!
View full details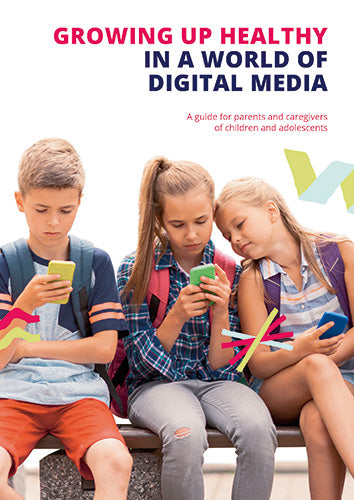 Inspiring Children, and their Families, through Play, Art and Reading. Always, with a love of Nature.